If you've already made all the eco-swaps you can think of, have cut down on your energy use, and think about the green credentials of every purchase you make, planning a sustainable holiday might be your next move.
And if the term sustainable holiday makes you think of either rustic adventures or five-star luxury, think again. Vicky Smith loves the world, the people and its places. That's why she's dedicated her life to travel. And she says sustainable travel can be almost any kind of trip you can think of.
Vicky spent years travelling the world and working in the industry. But after seeing the negative effects tourism can have on local communities, she decided to move into sustainable travel.
So she set up Earth Changers. It's neither a travel agent nor tour operator. Instead, Earth Changers is a platform that curates trips and connects you, the traveller, with real experiences around the world.
Earth Changers is a signatory of the Glasgow Declaration for Climate Action in Tourism. That means it is committed to the declaration's goals of halving tourism emissions over the next decade and reaching net-zero before 2050.
I met Vicky online to talk about planning a sustainable holiday and why we should be making it the norm.
What exactly is sustainable travel?
The official UN World Tourism definition calls it tourism that takes account of its social, economic and environmental impacts, both now and in the future. But there is a gradated difference between responsible, sustainable and regenerative travel.
Responsible tourism simply means taking responsibility for the decisions you make and the impact those decisions has. Sustainable tourism takes it further. It means you look after people and places for the future, being careful not to degrade the status quo.
Regenerative tourism is all about creating a positive contribution. It means having a different view, implying we need to change the system so it doesn't lead to degradation. The systems we have in place are damaging. They need to change.
I've heard sustainable fashion experts talk in exactly the same vein. Are there similarities between sustainable fashion and sustainable travel?
There are lots of similarities between sustainable travel and sustainable fashion. They are both about resource management. The main difference is that while fashion has products—items of clothing, travel is an intangible service.
But at the end of all products and services is consumption. And that means capitalism is the problem. Energy sits at the base of many of these systems and so we must change everyone's mindsets to not just think about pure profit.
I believe it's possible to use tourism as a vehicle for good, for sustainable development.
Volunteering might seem like a sustainable travel idea. But what are your views on voluntourism?
It's nice in theory. VSO and Peace Corp have been around since the 1950s and they've done good work. But with the advent of Hurricane Katrina and the boxing day tsunami there was a strong desire to help because a lot of us had been to those places.
The traditional companies were all about long-term solutions, so the holiday companies stepped in. And while the old model was very much based on needs assessment, the new model is based on demand.
In the old model, volunteers' skills were assessed, and plans were long-term. But now it's all about who wants to go where. It's very short-term and superficial, and you end up with a tourism product.
It's well documented, for example, that orphanage tourism can lead to child trafficking. A simple way of looking at it is this: Travel is driven by profit. But sustainability is driven by impact. I don't offer voluntourism experiences.
Tell me about Earth Changers. How does it work?
It's evidence-based. If everyone who went on holiday had a positive impact, it would make a huge difference around the world.
I worked in sustainable tourism for 10 years before starting Earth Changers. I started in this industry because I wanted to travel. And that meant I saw both the corporate culture and the negative impacts travelling has on communities, culture and society as a whole.
But there are amazing sustainable initiatives happening in every corner of the world.
With Earth Changers I want to promote trips that have positive impacts. Consumers can't be expected to have behind-the-scenes knowledge of sustainability, and that's where we step in.
The scale of each trip differs. While 17, 000 people benefit from the project in Kenya, only 200 are involved in Nicaragua. But the impact can be similar. All impacts are driven from within the community, making what we sell a quality over quantity product.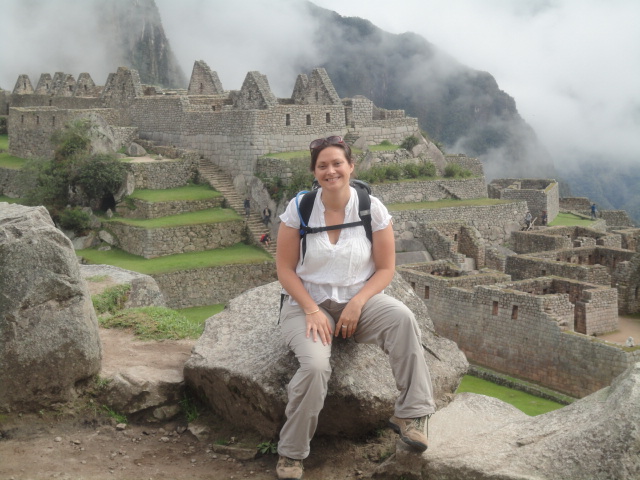 Isn't it more sustainable not to travel?
It's true that aviation is responsible for 2.5% of global emissions. And that percentage is growing as other industries are decarbonising. But travel creates new perspectives and brings us out of our normal selves. I've heard many stories of people making huge life changes because of travel experiences they've had.
I believe that culture, identity and people should be unique to a place. And experiencing other cultures through travel gives us more tolerance of diversity. Ultimately travel is a vehicle for peace, because you can't travel to places without peace.
I believe we should cut business flights and short-haul weekend flights within Europe. They're just not necessary. But we are fortunate to have the opportunities that we have. And people love travel. If you can harness that love, you can make positive change.
What challenges do you face getting people to consider sustainable trips?
When people go on holiday they want to switch off and not be responsible. That means it can be hard to get consumers to consider planning a sustainable holiday.
Running this kind of business also means making decisions that are not all about profit. But I want to get the message out there: Sustainable tourism is not necessarily more expensive than regular tourism.
What might a sustainable trip mean for the traveller?
Companies will be working hard to monitor water and other resources and that will make supply more efficient. Tourism staff will get paid better and work in a nicer environment, which will make them happier. The food might be organic and locally produced.
You're generally going to get a better-quality product. The hotel might be built with local materials, making it aesthetically more pleasing. And there might be conservation of local species.
But the trips all differ, from adventure trips in Wales to sailing expeditions that support marine conservation.
Earth Changers won Best Responsible Travel and Tourism Site, 2019. Vicky was also listed as one of Forbes 100 Leading Environmentalists (Who Happen to be Women) in 2020.
Planning a sustainable holiday? Check out our guides on sustainable swimwear and how to plan a sustainable holiday.