Eco-friendly running clothes may not be your first concern as you take to the track or forest on your morning run. But if you run to maintain your general health, have you ever stopped to consider whether running could ever be truly healthy if it comes at the cost of the planet?
Millions of tons of plastic land in the oceans each year. And some of that plastic comes from the clothes you run in. Horrified at the impact plastic pollution was having on our world, Danish ultra-marathoner, Daniel Chabert wanted to do something about it. So he created Rockay, a running apparel brand that launches its second sustainable line this month.
The problem
Plastic enters the oceans because of inadequate waste disposal, beach litter, and fishing industry waste. But your clothes also contribute. Most running gear is made from synthetic materials that are great for wicking away moisture as you sweat. But when you wash your clothes, they shed microplastics. And guess where those microplastics end up? That's right: in the oceans.
Sea creatures ingest the tiny particles. And pieces of floating plastic assist in the transmission of bacteria and other organisms that create havoc underwater. Microplastics are in your drinking water and other consumable products. And they can cause developmental, immune, reproductive, and neurological disorders in many creatures including humans.
More than half of that lovely oxygen that pumps into your lungs as you run comes from the world's oceans. So, the fact that sportswear has such a deadly impact on them is alarming, to say the least.
But it doesn't need to be this way. Over half of the plastic on the planet today was created in the last 15 years and more than 91% has never been recycled.
Eco-friendly running clothes as part of the solution
Chabert's solution was simple. He started taking plastic waste, such as abandoned fishing nets from the oceans, and turning it into nylon yarn which he used to make socks and other eco-friendly running clothes. But not satisfied with being just another sustainable sportswear brand, Chabert is also dedicated to performance.
"We've put so much effort into sourcing the best materials, then testing and perfecting every single detail, to inspire our runners for new miles," he says. So sure is he of the quality of Rockay's goods, you get a one-year guarantee on any item. And that guarantee extends for life on all socks and sleeves.
The Evening Standard voted Rockay's Flare running socks one of the best running socks of 2020. They're not cheap, but thanks to technology that extends garment lifetime, they will last a long time.
"Our goal is to produce premium products that are both durable and sustainable," says Verdana Damjanovic, the company's digital public relations manager. Reusing coffee grounds to create UV-protective materials that dry faster than cotton and utilising technology to create textiles that stay odour-free are just two of the ways Rockay is pushing the boundaries of possibility.
Changing the public narrative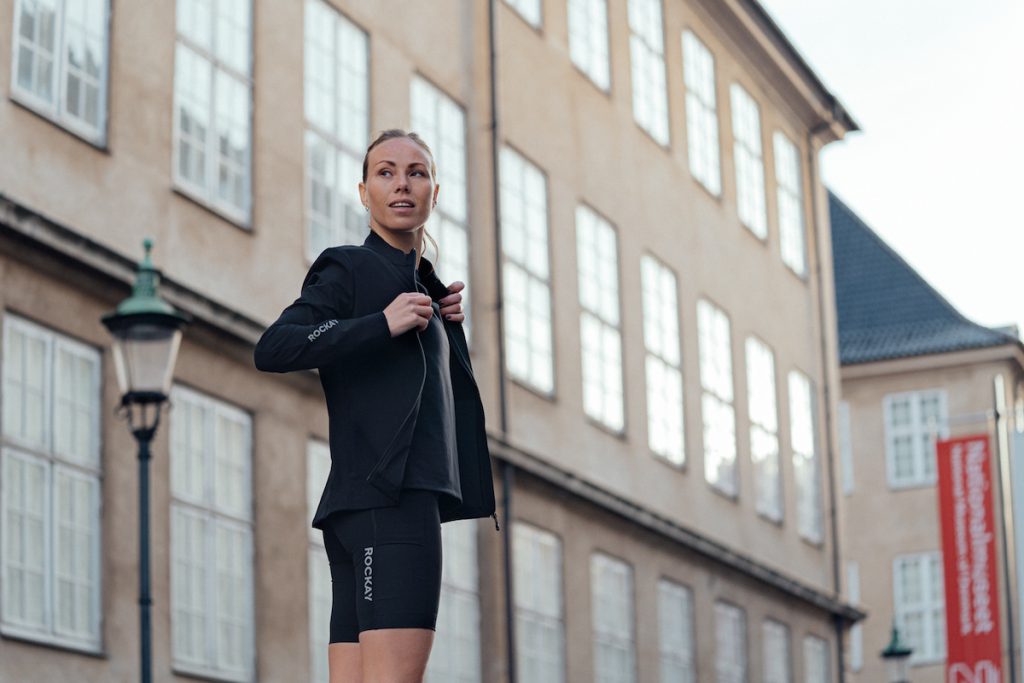 Rockay isn't perfect. The company still uses synthetic fabrics such as elastane in its performance products. But with transparency and corporate responsibility at the core of its mission, Rockay is helping create a movement for change. "We're pleased to see that more and more brands are taking steps towards slow fashion, sustainable manufacturing, and ethical choices in production, packaging, and all aspects of the supply chain," says Damjanovic.
Meet the expert
Manuela Agner runs between five and 13km daily with a half-marathon thrown in every month or so. "Eco-friendly running clothes are very important to me," she says. "I try to consume as little as possible but will look for quality when I have to buy something. I'm a minimalist runner and so comfort is also important. There must be no chafing and the clothes must be light".