Riaswim: sustainable swimwear for diverse bodies
No one can deny that 2020 has been a year of disruption. But some people have been using it to become a force for good. Cassie Murphy is one of them, having started her new sustainable swimwear business during lockdown.
"I'd been investing more time and research into the planet and sustainability as a whole," she says, "and I remembered trying to find sustainable swimwear for my holiday last year. It was really hard. I could only find small boutiques and I wanted to give them a platform".
That's why she launched Riaswim, a sustainable swimwear platform that links consumers to small independent companies. "Furlough lockdown brought me a lot of spare time," says Cassie. "I got in touch with about 40 sustainable bikini brands. And 90% replied". That's when she knew she was onto something.
Because they are exposed to harsh conditions such as salty seawater and chlorinated pools, swimsuits tend to be made from synthetic fibres. But these fabrics contain microplastics that release millions of microfibres with every wash. And where do those fibres end up? In the very oceans we like to enjoy on our summer holidays.
There is no simple solution to this problem. While some sustainable swimwear companies make their products from natural materials, others choose to recycle synthetic textiles. This won't stop the problem of microfibre shedding. But it will keep old products out of landfill and increase the lifespan of fabrics that have already been made.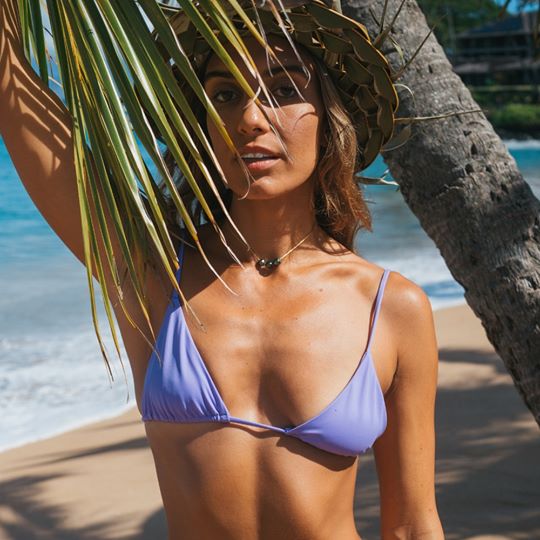 Throwaway versus sustainability
Throwaway fashion is a big problem for our planet. And as the Riaswim platform says, sometimes we have to choose between using materials that we know will pollute and keeping those materials out of landfill.
While sustainability is key, it's not the only thing that makes Riaswim stand out. Riaswim is one of a new type of business that puts ethics at the heart of everything they do. "It's all about building relationships and having honest conversations," says Cassie. And that's not all. "We are a sustainable marketplace," she says, "but diversity is also one of our key values".
Look through the online catalogue and you won't see just one type of body. All women are catered for. In an industry that has traditionally been anything but inclusive, this is cutting edge.
"It has to be something the industry does better," says Cassie.
Sustainable swimwear is more costly than the items you can buy on the high street. But don't let that put you off. If we're going to make a difference, we need to change the way we see clothing. Buy from Riaswim and you're making an investment. You're buying into a product that will last a few years, not simply for the duration of your next holiday.
Check out the brands that Riaswim supports here. There are currently 37 but it's an area that's sure to see growth!