Even before the pandemic, news was enough to make you shudder. And though climate change has long been a stark reality, many businesses have chosen to ignore it. But Beauty Kitchen is a small company that's on a mission to face global challenges head on and stay positive at the same time. Its mantra? Return • Refill • Repeat.
"We're tackling sustainability problems with positivity," says Amy Hasell, social media and PR manager. The cosmetics industry is notoriously bad at dealing with its waste. The UK alone generates 2,260 million tonnes of plastic waste each year. And only 9% of beauty packaging is ever recycled.
That's why Beauty Kitchen created its Return • Refill • Repeat programme. Pop your jars and bottles in the post for free or drop them into any Holland & Barrett shop. The team at Beauty Kitchen will wash and re-use them for you.
With its sustainable skin, body and hair care products and eco glitter balm, Beauty Kitchen insists that beauty products can be modern, effective, and kind to the planet all at the same time.
It's a B-Corp
The company was the first UK high street beauty brand to become a B-Corp in 2017. All of its products come in sustainable packaging, from compostable pouches to FSC-approved cardboard packaging and vegetable inks.
But even that wasn't going far enough for founder, Jo Chidley, who, as a chemist and sustainability expert, is perfectly suited for finding green solutions in the beauty industry. Beauty Kitchen's products are made from 100% natural ingredients and 95% of them are certified vegan.
Ensuring it covers every aspect of sustainability, the company makes most of its products in the UK in order to cut down on air miles and create local jobs (apart from their compostable konjac sponges whose roots grow in China). You'll find its products in Holland & Barrett, Boots, Sainsbury's, Lloyd's Pharmacy and more. Or you can purchase them online here.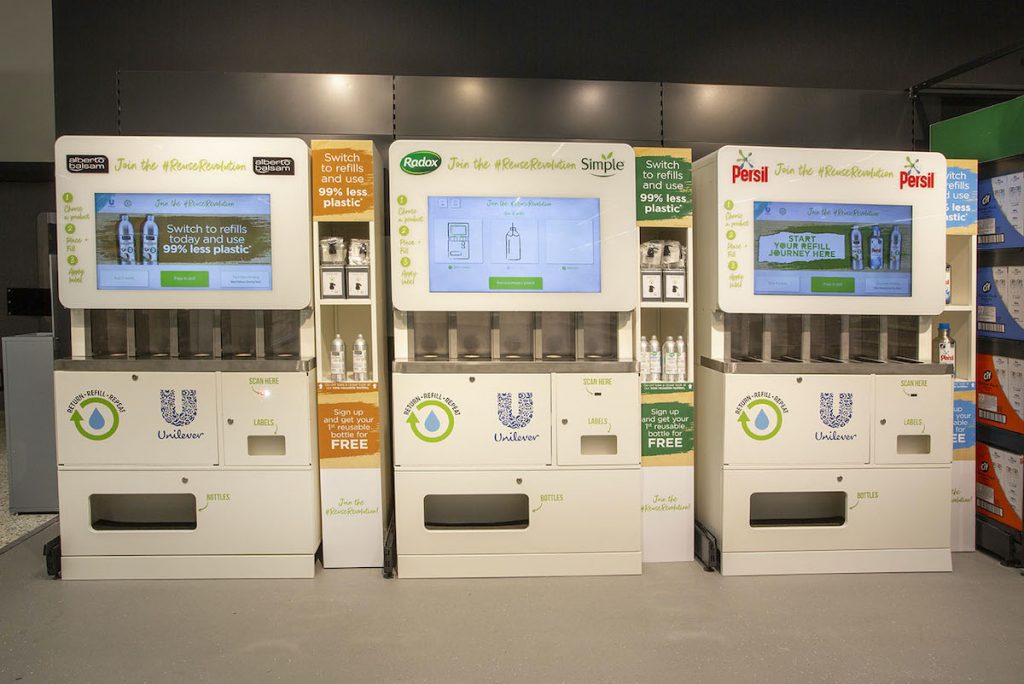 A new way of doing business
But its green credentials aren't the only thing that makes Beauty Kitchen different from traditional companies. Perhaps the most innovative direction this entrepreneurial business has taken is to ditch outdated competitive business strategies.
"We want this trend to stay and become a movement," says Hasell, explaining that it's because we all share this planet that some of Beauty Kitchen's most important work is training other businesses.
In 2020, Beauty Kitchen partnered with Unilever and Asda to develop touch-free refill machines so that customers can Return • Refill • Repeat in the supermarket. Asda won't be selling Beauty Kitchen products yet. Instead, customers can fill their aluminium or stainless steel bottles with Simple, Radox, or Alberto Balsam products.
It won't necessarily get Beauty Kitchen new customers. But it's a move that Unilever says will mean 30,000 fewer plastic bottles going to landfill per store per year. And that, says Hasell, is something to celebrate.
"It's up to us to be transparent and make products accessible and affordable," she says. "It's up to us to make the everyday products we use more sustainable".