The coronavirus' effects have been likened to wartime Britain, when people were encouraged to dig for the nation, growing their own food to help combat food shortages. So grow your own organic vegetables. It could be the way forward!
Those lucky enough to have gardens have been at an advantage during the lockdown, especially since the weather's been so balmy.
Not content to lie in the sun, people have been planting and tidying like never before. That explains why the government decided to let garden centres be the first businesses to reopen during the Covid-19 lockdown.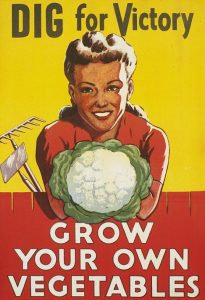 Food production is in vogue once again and it's not too late to grow your own organic vegetables from seed. Tamar Organics has been selling high-quality organic seeds since 1994. They are now one of the nation's foremost seed suppliers. Put in an order of £30 or more and have your goods delivered to most UK mainland destinations for free.
Sow parsnips, carrots and French beans straight into the soil. If you have planned ahead, transplant your tomatoes, aubergines, peppers and cucumbers now. It's a good time to buy beetroot and salad crops as well as herbs. Keep sewing them through the growing season to enjoy a continuous supply.
Growing your own organic vegetables without a garden
You don't need a big plot of land to grow your own food. Use plant pots and bags dotted across window sills and whatever outdoor space you can find. Even if you can only manage a steady stream of herbs, it will be worth the effort.
And why not take advantage of improved neighborliness because of Covid-19 lockdown and use the space around your neighbourhood to grow locally produced food just like the people of Todmorden in Yorkshire, UK, have done.
There's nothing quite like sitting down to a meal containing food you have grown – even if you only manage a bit of lettuce, be brave and grow your own!
OPOH Recommends
Tamar Organics is a small business 25 year old business based in Cornwall, UK, specialising in cultivating and selling of non-GM (genetically modified) seeds.
Visit the Tamar Organics store