Are you the kind of person who likes to keep a Marie Kondo-inspired home, completely free from clutter? That's just fine on a day-to-day basis. But what about those days when you feel like cleaning the carpets, baking some bread, or painting your ceilings? If you simply don't want to store a carpet cleaner, a bread maker, or an extendable ladder, but you'd like to use them from time to time, the Library of Things is here to help.
Built on the premise that borrowing is often more cost-effective than buying, the Library of Things opened in London's Crystal Palace in early 2018. And borrowers there have so far prevented almost 16,000 kg of waste from going to landfill.
Closing the loop
But while it is indeed cheaper and more space-efficient to borrow those items you seldom use, something else motivates many borrowers. In a recent survey of 180 borrowers, 27% cited environmental concerns as their main motivation.
The Library of Things is helping society move towards a more circular economy. It is constantly in dialogue with its partners, trying to find ways of recycling and reusing the products that come to the end of their lives.
As more and more people realise that consumerism just isn't working, they're looking for more creative ways to live. And judging by its success, the Library of Things movement is going to spread.
Even Covid lockdowns can't stop it. When the pandemic started, the Library of Things team had to reassess. They asked their users for their thoughts and 50% said they still wanted to borrow. "People were spending time at home and getting on with home improvement projects," says Alys Penfold, borrower support lead.
They tried a delivery service for a while. It was successful but energy-intensive. And it just didn't fit with the enterprise's ethics. "What we do best is put things in kiosks in shared spaces in communities," says Penfold.
And that's why you'll still find their click and collect kiosks open throughout South London. While the pandemic has made things trickier to navigate, it hasn't put them off.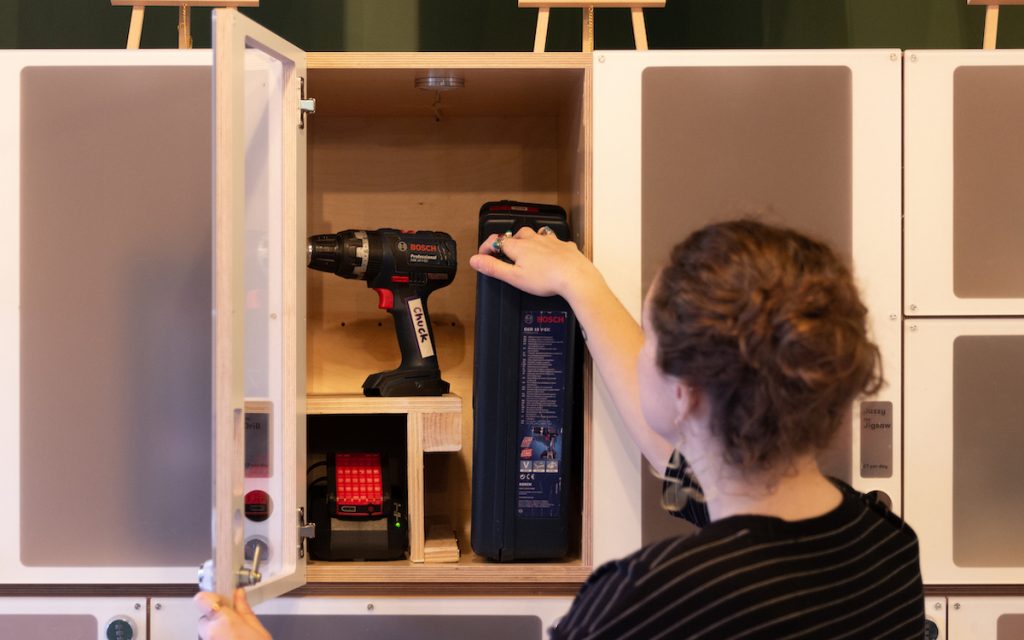 The future of borrowing looks bright
The team is now busy working behind the scenes, preparing for their new locations opening later this year. And the enterprise is looking for communities across the UK who want to host a Library of Things in their own area.
If that's you, get in touch with the Library of Things here. And please log in to let us know about your own ventures.