An ambitious new startup company wants to tackle the problem of plastic waste by completely transforming the way we consume water-based beverages. That's why they've designed their very own smart water filter.
What is the Rocean smart water filter?
Developed by clean-tech startup Rocean, Rocean One is a smart device that connects to your kitchen tap, providing filtered, carbonated and flavoured water. The idea is that you can make any drink you like at home.
The startup claims their water filter is 15 times more powerful than comparable products. And, they say, it removes 75 more contaminants, such as microplastics, than a standard pitcher filter.
How does it work?
The Rocean One uses carbon block filtration technology to filter contaminants such as lead, asbestos, and mercury from tap water. The filter is capable of processing up to 300 gallons of water before it needs replacing. And that should last for about a year. Because it's a 'smart device', the Smart Alert system notifies you when the filter needs changing, and Rocean automatically sends a new one via post.
This device also carbonates water. And you can adjust the CO2 levels to your preference. Each device is fitted with a fully replaceable CO2 cartridge.
But it doesn't stop there. This nifty gadget can also flavour your tap water. The pods are reusable and dishwasher safe. And they come in a wide range of flavours. Each recyclable refill pack is capable of producing up to 50 litres of flavoured water.
The device comes with an app, which you can connect to Google Home or Amazon Alexa. Control the device from the touchscreen, the app, or smart speaker voice commands. And the app also has a feature to track your water consumption, which estimates how much money you would have saved compared to buying the same beverage in a bottle from the shop.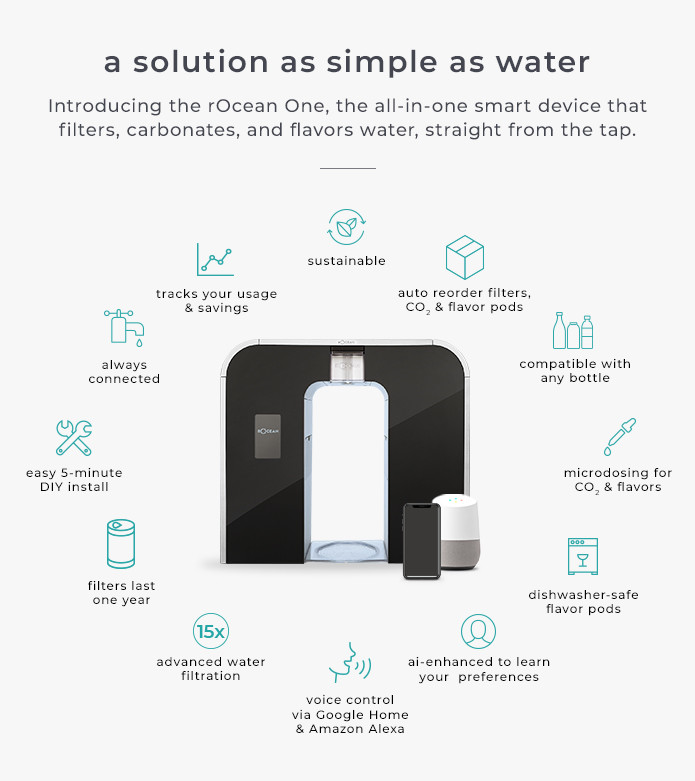 Is it just a SodaStream?
Yes and no. SodaStreams made a fashionable return in the 2000s, culminating in a multi-billion dollar acquisition by PepsiCo in 2018. But Rocean are looking to create more than a single product designed to carbonate water.
The company is betting on creating an entire platform of compatible products designed to reduce reliance on plastic consumption, putting control of how drinks are consumed in the house back into the consumer's hands.
Cost
Rocean are currently crowdfunding. They already have a working prototype, and the estimated early bird price is $199 USD.
OPOH recommends
The Rocean team are still crowdfunding their idea and no prototypes have been demonstrated. Rocean have recognised the growing danger of microplastics to humans which is what makes the Rocean One an interesting idea. However the price for the Rocean One seems very high for what it does and without any working prototypes we cannot recommend investing in the Rocean One concept at present.