Have you come across Tony's Chocolonely? If you love chocolate, you might have been enthralled by the silky smoothness of the melt-in-your-mouth chocolate that comes off the bar in uneven chunks.
And you might have been pleased to find some copycat versions, in, say, Lidl. Chunky, chocolatey, and fairly traded. What's not to like?
But when it comes to the chocolate industry, things are not that simple. I met Nicola Matthews, marketing manager at Tony's Chocolonely UK online. "It's great that Lidl is taking the first steps," she said, "but it's not working with the five principles that we believe chocolate companies should adhere to in order to make chocolate slave-free."
The problem with chocolate
The big problem with chocolate is that, traditionally, the people growing it have been the ones to profit least. It's in the big corporations' interests to keep prices "inhumanely low," as Matthews puts it. And the poverty this causes drives a lot of social problems including child labour, poor working conditions, and even slavery.
Because of this, Tony's Chocolonely has developed five principles to adhere to. And this makes it one of the forerunners in fair, sustainable chocolate. And while companies such as Lidl might be moving in the right direction, they're not yet embodying each of the five principles.
A different kind of business
Tony's is one of those new breeds of B Corp for whom there are more important things than turning a profit. And while Matthews acknowledges that there will always be big business, she's certain that a loud minority is making its voice heard. "We like to think we are the mosquito in the room of the big corporations," she says.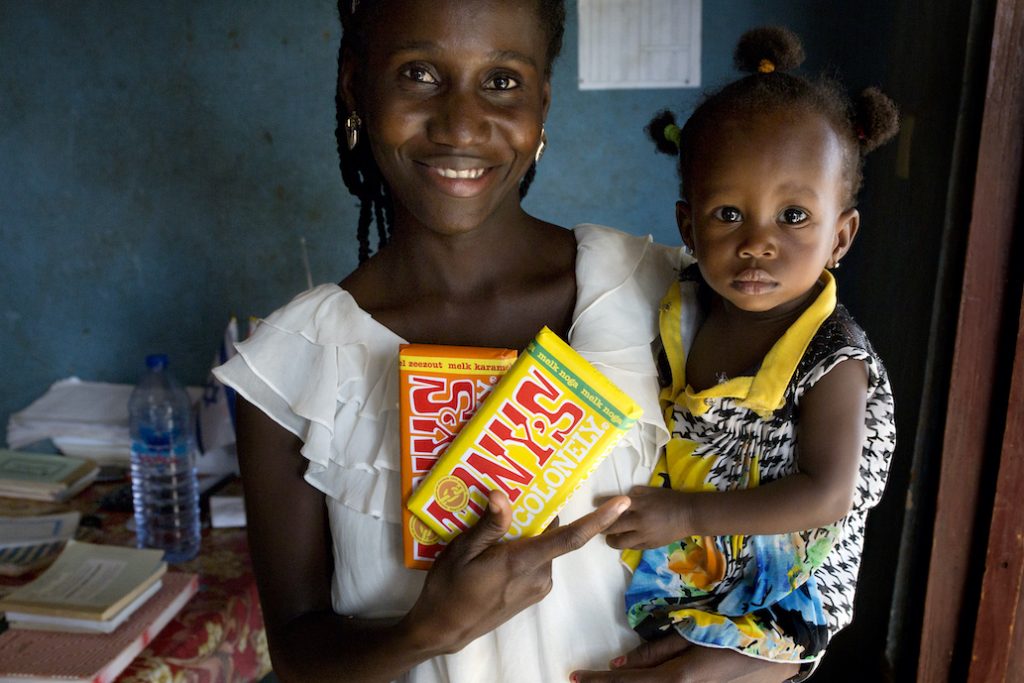 Open chain for fairer, slave-free chocolate
As part of its mission to make chocolate slave-free, Tony's has set up an open chain platform. The company invites other organisations to implement the five principles in their own chocolate production: Look out for the Choco Changer to be released in Aldi this spring. Along with German chocolate manufacturer, Jokolade, Aldi is joining Tony's this year, helping the company triple the amount of slave-free cocoa it bought last year.
Can any company be sure it's 100% slave-free?
"We would never say we were 100% slave or child labour-free," says Matthews. "Our model isn't just about auditing," she continues, telling me it's really about getting to the root cause of the problem which is poverty.
In the year between 2019 and 2020, Tony's Chocolonely found 387 cases of child labour in their chain. But far from fretting about the numbers, the company sees this as a good thing, since they then have the opportunity to change things for the better. Two hundred and twenty one of those cases have already been remediated and the company is working on the others.
It's this kind of transparency that makes Tony's Chocolonely so respected in the fight to end modern slavery. After all says Matthews, "it's easy to say there's no slavery in your supply chain when you don't look for it".
Tony's Chocolonely's five principles



Tony's bills itself as being "crazy about chocolate, serious about people". And it follows five guiding principles:

1) Traceable beans

When companies can't trace their cocoa beans, it means they may well have come from illegal plantations set up in protected areas or ones which use forced labour. Tony's source their cocoa from cooperatives, working in partnership with them to guarantee the traceability of their beans.

2) Paying a premium

Because low global chocolate prices keep cocoa prices in West Africa unreasonably low, Tony's pays a premium to its farmers. This helps bridge the gap between actual wages and the living wage and in the last year, Tony's paid an additional $4.3m in premiums which helps keep their chocolate slave-free.

3) Strengthening farmers

Tony's also realises that strong communities benefit the farmers who live and work in them. That's why it facilitates the development of strong cooperatives. Cooperative members are able to negotiate fairer wages and experience the benefits that working as part of a community brings.

4) Long-term thinking

Cocoa farmers often say the five-year collaboration agreements Tony's offers are more important to them than getting paid premium prices. It means they can invest in their farms, buying the cocoa trees, training, or equipment they need to get better yields in the future.

5) Better quality and productivity

Tony's works hard with its farmers to ensure that they achieve the best quality and productivity possible.
So what's the best way to support Tony's Chocolonely's slave-free chocolate mission?
One of the good things about Tony's Chocolonely's model is that you don't even need to care. You can participate in the movement just by buying the chocolate. But if you do care, get involved. Sign the petition to end slavery on cocoa farms. And educate yourself on where your food comes from: The more we, as consumers, understand the impact of slavery and child labour in production lines, the more influence we can have on the companies that produce our food.