Camping is a great way to enjoy our natural world – but lighting a campfire isn't necessarily the most Gaia loving of acts. Burning wood releases toxic compounds into the air, including nitrogen oxides, benzene, VOCs (volatile organic compounds) and carbon monoxide, a harmful greenhouse gas. What's more, people often cut healthy vegetation to use as firewood, which affects local ecosystems and wildlife.
To provide an eco-friendly solution to this camping conundrum, BioLite have created the CampStove 2.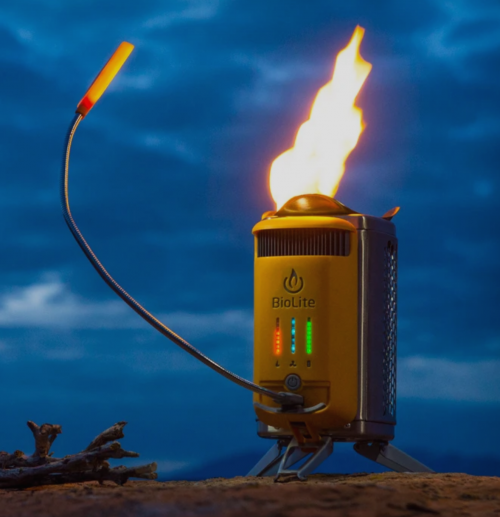 What is BioLite CampStove 2?
This nifty little gadget lets you cook, grill and charge your devices while you're camping. Although it is still fundamentally a wood burning stove, you only need to use small twigs to get the (smokeless) flames going, making it an environmentally friendly choice for your campfire meals.
How it works
🔥 Heat
The patented core technology collects waste heat from the fire via a heat probe attached to the device's powerpack.
⚡ Electricity
Heat is converted into electricity with the help of a thermoelectric generator. This powers a fan and the USB charging port. Spare electricity is stored in an internal battery.
💨 Air
The internal fan blows air back into the burn chamber to produce a cleaner, more efficient burn.
Cost
The BioLite CampStove 2 is currently on the market for £139.99 (January 2020). When you make a purchase from their website, you're also giving back to the planet. Part of each sale is reinvested into BioLite's work in sub-Saharan Africa, where they provide energy and lighting for people in remote areas.
OPOH recommends
For the occasional glamper the price may seem excessive and remove some of the romanticism of huddling around a traditional fire. But for the seasoned pro, having a fast source of warmth, energy and cooking could warrant the price.
The BioLite CampStove2 is the updated version of the CampStove1 and comes with a lot of new features, including the ability to generate 50% more energy.
If you frequently spend time camping and want to reduce your impact on the environment, then this device is definitely worth considering.