Whether you're planning to treat yourself this Christmas or you're looking for a gift for that special someone, jewellery is always a good idea. But while gold traditionally tops the list, all that glitters is not sustainable. Gold mining is one of the world's most destructive industries. Thankfully, some jewellers are seeking to change things. I spoke to Liz Stovell, independent jewellery designer and maker, about her ethical and sustainable fine jewellery.
Having trained in London's prestigious jewellery corner, Hatten Garden, Liz knows all about fine jewellery. But that wasn't enough for her. Making just one gold ring conventionally creates 20 tonnes of waste. And that ends up contaminating drinking water and polluting ecosystems. Being a passionate advocate of sustainability, Liz decided to do something different when she created her company, Untold Jewellery.
What's best: recycled gold or Fairtrade gold?
There is an active debate about whether recycled gold or Fairtrade gold is more ethical. Any gold mined from the earth, even Fairtrade gold, has an environmental impact. And the problem with using recycled gold is that there is no traceability. Your lovely new recycled gold ring, could, for example, have been mined unethically within the last year. There is simply no way to tell.
Liz has decided to focus on Faitrade, though she does work with recycled gold on request.
Acknowledging the nuance, she says: "there is no right or wrong answer at the moment. I decided it's the human story that needs support. But that doesn't mean the environmental element is excluded. The Fairtrade initiative helps the environment by investing in cleaner technology".
"As a consumer," says Liz, "I know it's hard to get 100% transparency on a supply chain. For me, sustainability is a full cycle. It's about what happens to the materials after use". That's why she offers a buy-back service, repurposing Fairtrade gold and fully traceable gemstones.
Unlike recycled gold, inherited gold is considered 100% conflict free. Untold Jewellery started out working only with inherited gold. When Liz began making jewellery in 2014, she was upcycling handed-down pieces, turning them into bespoke items. It's something she continues to this day. "People cherish gold," she says. "They don't throw it away and every piece tells a story".
It's this passion for human narrative that gave Untold Jewellery its name. Liz loves working with clients, listening to their stories and coming up with the perfect designs.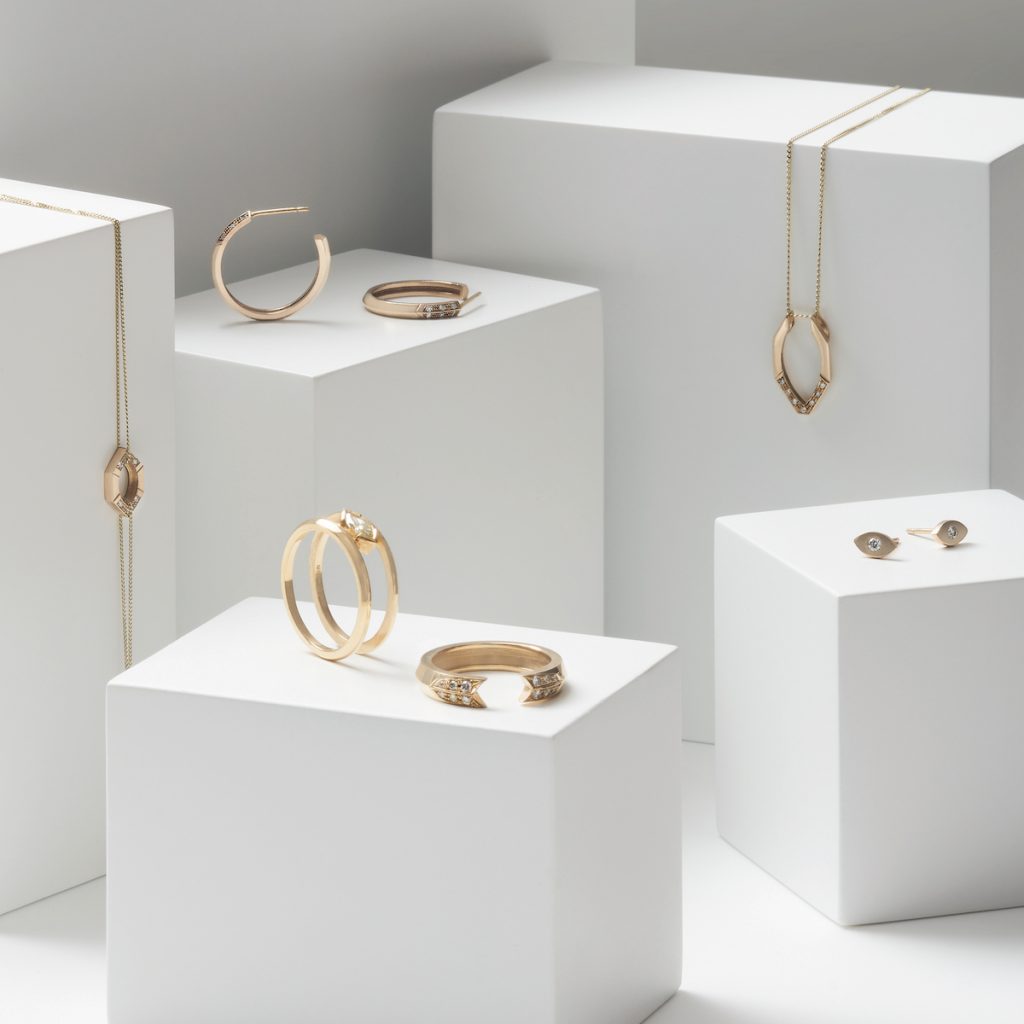 A day in the life of a sustainable fine jewellery maker
I wondered what a day in the life of a sustainable fine jewellery maker might look like. "It's just me," says Liz, "So I have to be everybody. This morning a lovely client brought me her grandmother's engagement ring. We came up with some designs together. Then I was at the bench for a couple of hours, and I'll be doing admin this afternoon".
Liz always thought she would love designing and making jewellery the most. "But I get a lot of joy from educating myself and sharing that information," she says. "I love that I'm always involved in stories. And that's what my collection is all about".
If you're close to London and you'd like to be part of Liz's story, why not head to one of her upcoming events?