Have you ever felt guilty about your carbon footprint whilst commuting? What if there was a way you could travel 'greener' whilst getting healthier? Unpredictable British weather and choking roads might have deterred you in the past from swapping your car for pedal power. But these days, with towns and cities embracing the humble push-bike as a way of reducing pollution and freeing up road space, e-bike sales have surged. read on to discover everything you need to know about e-bikes.
E-bikes are convenient for short trips through traffic They are easy to use. And they're much better for the environment than cars or even public transport.
Germany and the Netherlands may be the biggest e-bike markets in Europe, with 44% and 21% of all European sales respectively. But the UK is fast catching up. In fact, it's surpassed 50,000 bikes sold per year already.

So what exactly is an e-bike?
'Electric Bikes' (not to be confused with electric motorcycles), commonly called e-bikes, look pretty similar to regular push bikes. But they come with additional key components – a battery, a motor, and a controller. This means that when it comes to tough hills, you can take a break from pedaling. And this means you can get to work looking fresh, not sweaty. E-bikes' batteries are often removable so you can charge them up at home or the office.
Everything you need to know about riding an e-bike
You still have to pedal an e-bike sometimes. But the motor provides additional help when you most need it. Different brands have different systems. Some come with a trigger that you can press whilst riding. And others use complex electronics which detect the rate at which you are pedaling and start the motor as appropriate to keep you at your desired speed.
But regardless of which e-bike you choose, you'll always be able to maintain control. And you can always choose to switch off the motor entirely.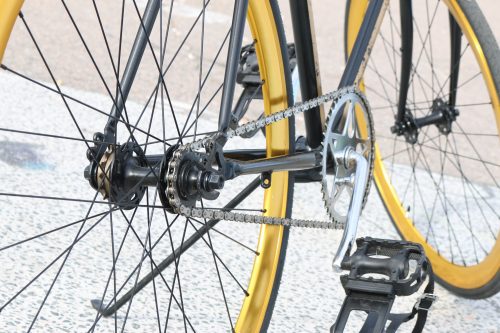 E-bike batteries and range
Even the cheapest e-bikes give you a considerable riding range. You can get anywhere from 20 km per charge to well over 100 km per charge in ideal conditions. Of course the actual range depends on many factors. These factors include your bike's weight, your weight, your pedaling style, the motor's power, and the quality of your battery.
Everything you need to know about e-bike costs
Most commuter e-bikes are priced between £500 and £2,500. Although they're more expensive than regular bicycles, they don't cost much to run. And you can spread the cost by using a credit card or through retailer finance offers.
And you can easily offset the cost of buying and running your e-bike. just think how much money you'll save riding it compared to using public transport! In London, a zone 1-3 travel card sets you back £158.30 (November 2019) per month. In comparison, cycling 5 miles each way costs a bowl of porridge, a smattering of determination, and monthly payments below £120 (over 12 months if bought using interest-free credit or similar finance options).
We think that's a price worth paying for a healthy body, environment and eventually bank balance. Now you know everything you need to know about e-bikes, the only question left is this: When are you going to buy one?
OPOH recommends
British company, Volt, are one of the leading brands in the e-bike market. Based in London, Volt speciallises in e-bikes. And they offer a wide range of modern and stylish designs. Their collection of foldable bikes such as the Axis and the Metro are popular with commuters and city dwellers as they're handy to carry and store. And if you have a problem with your purchase, Volt's expert technical support staff are on hand to tell you everything you need to know about e-bikes.