You can't beat the warm glow of candlelight. And as autumn draws in and the nights get longer, many of us find ourselves reaching for a box of matches in the evening. But is it just our collective imagination or are candles really calming?
The value of candlelight
It's no mistake that we've always lit candles to celebrate the most important times in our lives. Baptisms, festivals, birthdays, and funerals all have their own special fire rituals. That's because we've long known that fire has calming effects. Sitting by a campfire, for example, can lower your blood pressure. And as a meditation practice, staring at a candle flame improves concentration.
Scents affect mood
Aside from giving us soft, romantic light, candles give off fragrances. Scents travel straight to your limbic system, the part of your brain connected to emotion and memory. That's why UK-brand, Earl of East, created a line of candles during lockdown that took users straight back to the places they missed the most. Those places turned out to be the cinema, the festival, and the pub, which shows that not all candles are relaxing.
Scents such as camomile, lavender, lemon and cedarwood can induce relaxation. But beware of synthetic scents. They release chemicals that may cause cancer. There's no need to buy synthetic candles anymore anyway. All-natural candles are enjoying a revival!
Balancing Act
Balancing Act is yet another small company that came about during the UK's first lockdown. When Hollie Haines launched her brand-new subscription service in 2020, little did she know that three days later the world would be a completely different place. "The world changed so much," she says, "that it didn't feel like there was room for me". Hollie had been selling ethical products. But she'd struggled to find affordable candles that met her sustainability requirements.
After doing a candle-making course online with her mum, Hollie realised she could make them herself. Her candles took off and Balancing Act was born. Completely natural (and affordable), Balancing Act candles are handmade by Hollie in her London flat. The candles come in UK-sourced, reusable glass jars. All packaging is water-soluble or recyclable. And Hollie hopes to become even more sustainable in the future.
"People can buy the things I'm making with a clear conscience," she says. She is setting up a refill system and aims to be carbon neutral by 2022. From wax melts to soy candles, all Balancing Act's products are natural and cruelty-free.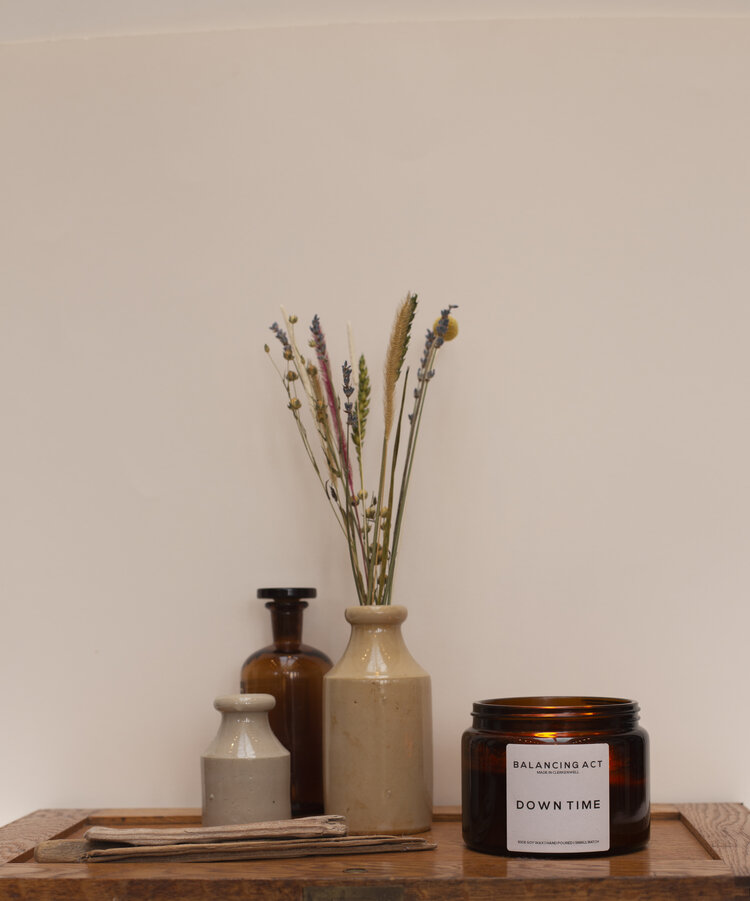 So do candles relieve stress?
In a word, yes. Candles can be an important part of your relaxation routine. The next time you're feeling down, or when you want to unwind, light a good quality candle and let the good times flicker.
Relaxing scents for stress
Are candles really calming? Yes! When you're feeling stressed, these scents can help:
Lemon
Clary sage
Jasmin
Lavender
Geranium
Relaxing scents for sleep
If you have trouble sleeping, try burning one of these scents:
Lavender
Chamomile
Bergamot
Sandalwood
Ylang ylang